Curwe WiFi Queue System Main Display

Enjoy the infinite flexiblity in your WiFi wireless network with Curwe main displays with your queue systems. Curwe main displays is fully compatible with the standart IEEE 802.11 WiFi network hardwares such as router, modem or access points. Curwe displays is working with only one static or DCHP IP address and which can displays up to 20 previous call with one connection. It provides a perfect wireless working experience up to 300m. It works any point in your office, just like smartphone or tablet computer, at any time, without the need for cabling or renovations. It can be installed on ceiling, wall or desktop with several installation brackets.
Displays 20 previous calls with only one IP
48x10 pixel resolution with power leds
IEEE 802.11 WiFi support
More than 300 meters wireless communication
Scrolling text information
75mm character height
Red, Blue or White led color options with high luminance power leds
Customizable font styles with Windows fonts
Supports WiFi certified network hardwares for extending coverage

Scrolling text
You can show your corporate messages to your customers with the scrolling text messages on the screen when standby mode.

WiFi 802.11 wireless communication
Supports standard IEEE 802.11 wireless wifi standard.
In this way, you can use wireless queue management led screens with standart WiFi hardwares such as modem, router or access point and install or move your screens without any modifications needs.

Windows true type font support
It operates compatibly with all windows true type fonts. You can highlight the counter number or ticket number with its different appearance by applying different font types

Multiple LED color options
You can order your wireless queue screens to fit for your corporate needs with red, white or blue led color options. You can use different colored led main screens for serving different services.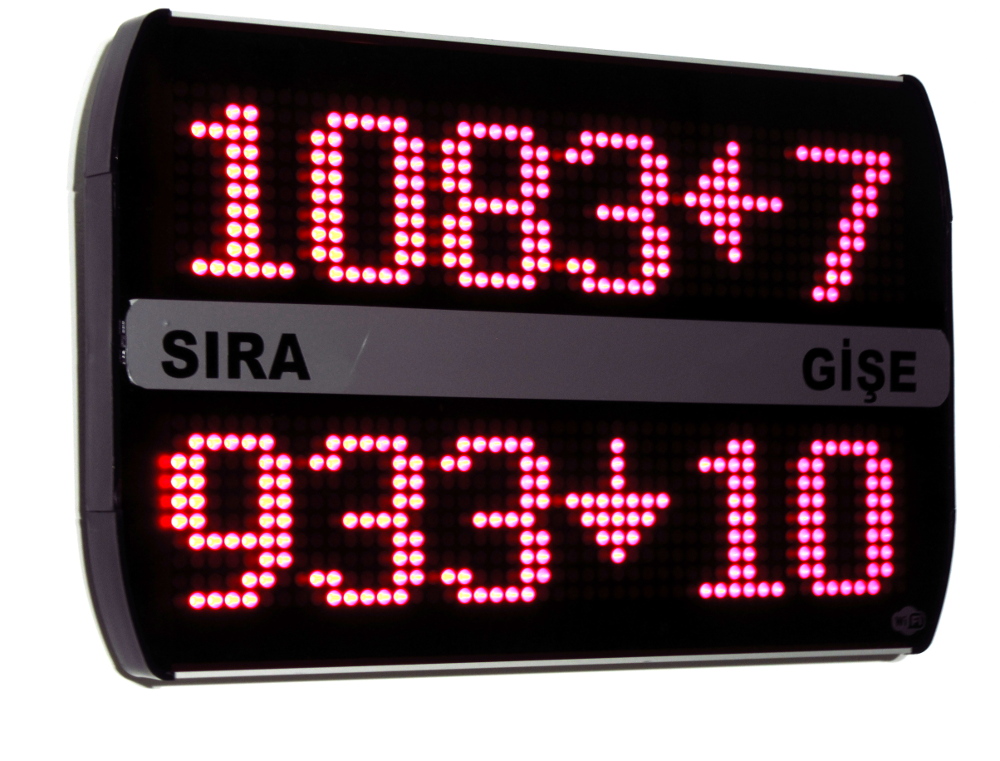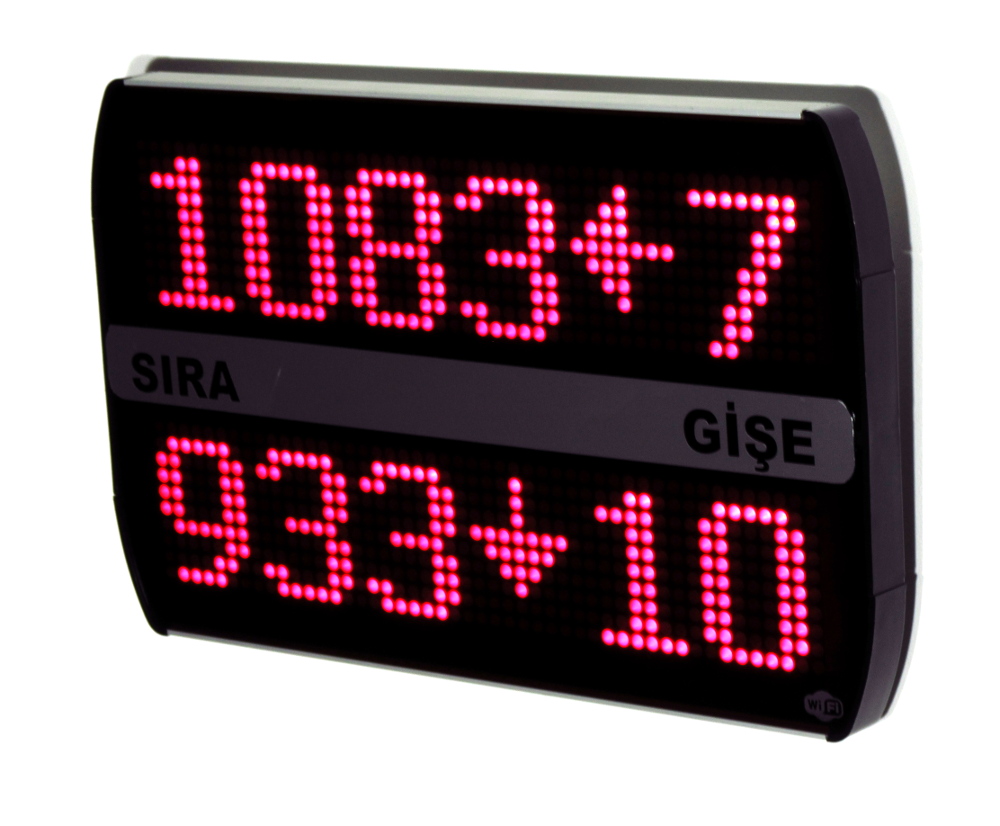 300 meters wireless communication
The wireless network technology used is WiFi certified, offering a perfect wireless working experience at a distance of 300 meters from just a single WiFi certified standard hardwares.

High contrast
You are free to use it in any place in your waiting room with 180 degree viewing angle and 75mm character height.
In applications with more than one main panel, you can use direction arrows to navigate your customer to right directions.

Alumunium chasis, modular design
Thanks to its modular design, you can increase the number of previous lines at any time by simply integrating the additional line. You can easily remove the lines or you can add new combinations with the simply modified additional lines.

Static or DHCP IP Options
It offers the option of working with static or DHCP IP options. Only one IP address can display up to 20 previous calls.
Technical Specifications
Hardware Properties
Network: RS485 Half Duplex or IEEE 802.11 WiFi
Technology: Matrix Power Led Display
Connection: Rj11
Operation voltage: 12V DC
Power consumption: 10W (Per Row)
Weight: 975g
Dimensions [mm] (WxDxH): 410x33x125
Luminance: 400mcd
General Properties
Resolution: 48x10
LED technology: Power led (up to 2200mcd luminance)
LED color options: Red, White, Blue
Chasis colors: Eloxal
Call number rows: 2, 3, 4, 5 Standard
Optional additional rows for previous calls: Yes
Functional Properties
Scrolling text: Yes
Central clock usage: Optional
Ticket number character size: 4
Ticket number prefix: Yes
Counter number character size: 2
Navigation arrows: Yes
Video display: No
Image/Slide show: No
Special text instead of ticket number: No
Special text instead of counter number: No
Previous call display: Yes
Next call number display: Yes
Melody option: Yes
Corporate melody option: Yes
Volume control: Yes
API-Support
Ticket call: Yes
Scrolling text: Yes