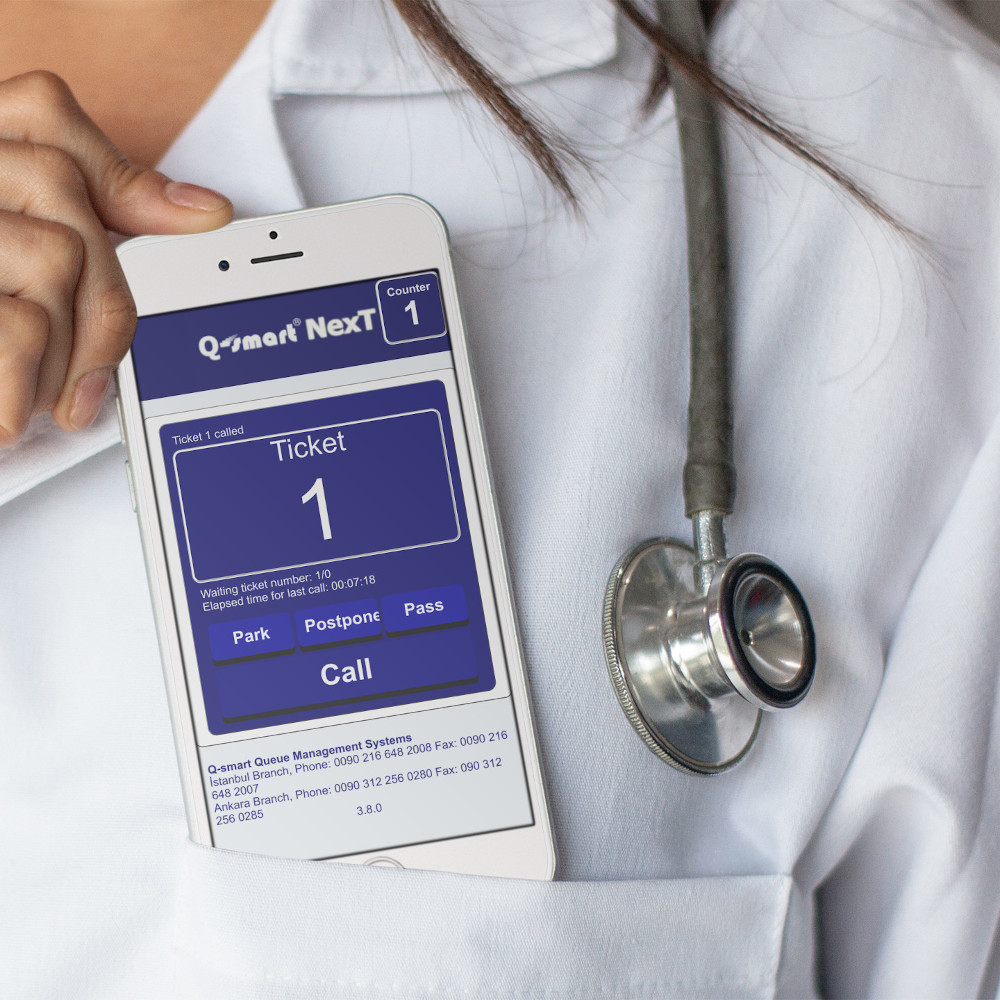 Hospital Information Management System and Queue Management Solutions
Q-smart Queue Management Systems and IPTV Queue Monitor Solutions
Q-smart offers queue management solutions that are integrated with hospital information management systems. These systems optimize call and queue management operations from patient admission to radiology on the screens. In addition to queue information, they also present multimedia content, weather conditions, and health news on the displays. With these technological solutions, hospitals can provide more effective and efficient service in terms of queue management and information.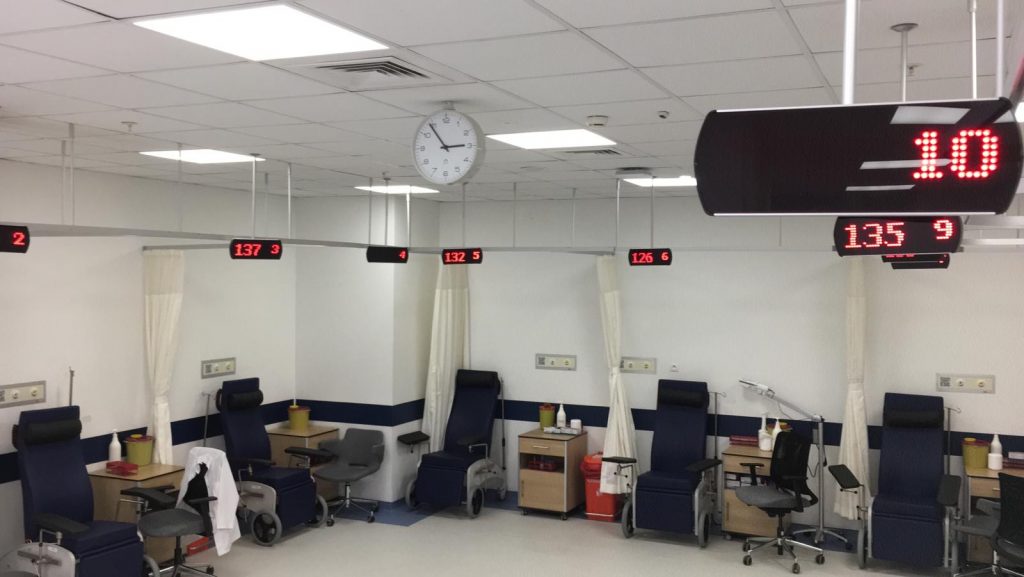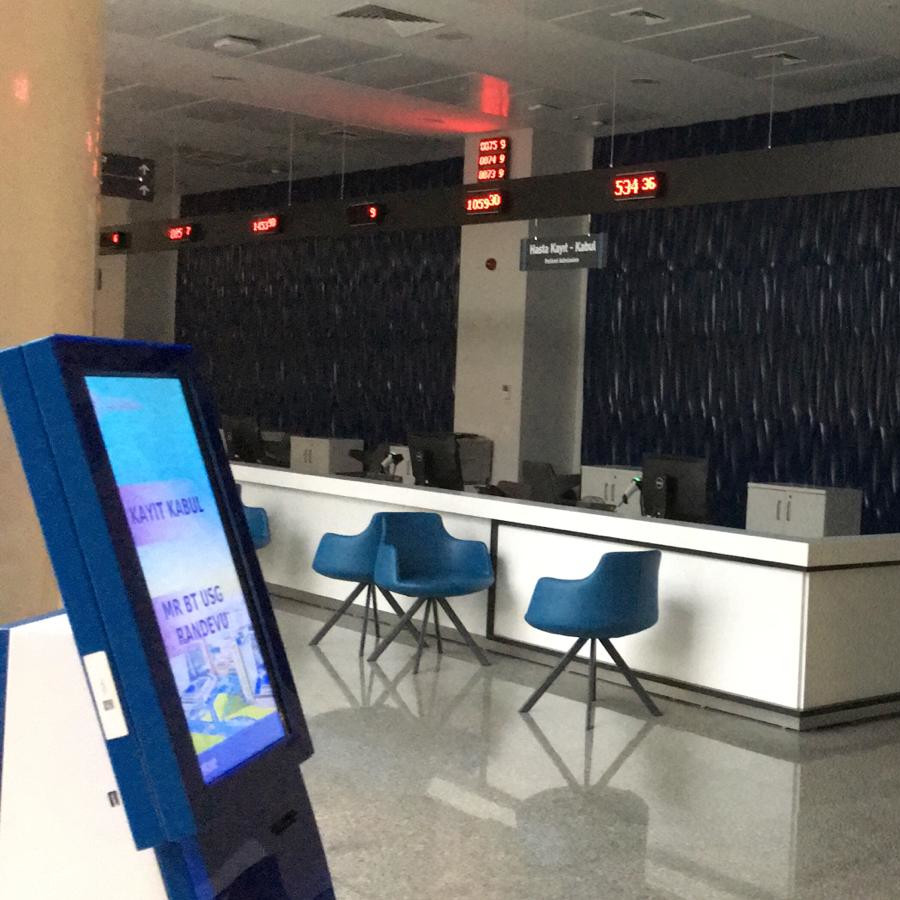 Convenience for Patients with Appointments
Patients with appointments are directed straight to the clinics without needing to visit the admission department, thus reducing waiting times.
Priority for Patients Aged 65 and Over
The system automatically prioritizes patients aged 65 and over, ensuring a fast and easy service process for this age group.
Integration with Hospital Information Management System (HIMS)
Patients registered in the Hospital Information Management System (HIMS) can take a number without needing to go to the registration department.
Phased Queue Distribution
By defining different queue priorities for secretaries and nurses at blood collection units, a more orderly workflow is created.
Radiology Department Solution
A specially designed queuing system for the radiology department enables patients to complete their procedures more quickly and efficiently.
Patient Transfer
Once registered, patients are automatically transferred to the relevant departments, making the patient direction process more effective.
Desktop Queue System
In stepped services, it is possible for patients to take their number through the desktop queuing system without having to use the ticket machine again.
POS and Label Printer Integration
Thanks to the integration of the system with POS and label printers, it is possible to print queue numbers from existing printers without the need for a separate printer.
In conclusion, the Q-smart Queue Management System provides a comprehensive solution that optimizes hospital operations and patient experience, enabling health services to be delivered more efficiently and effectively.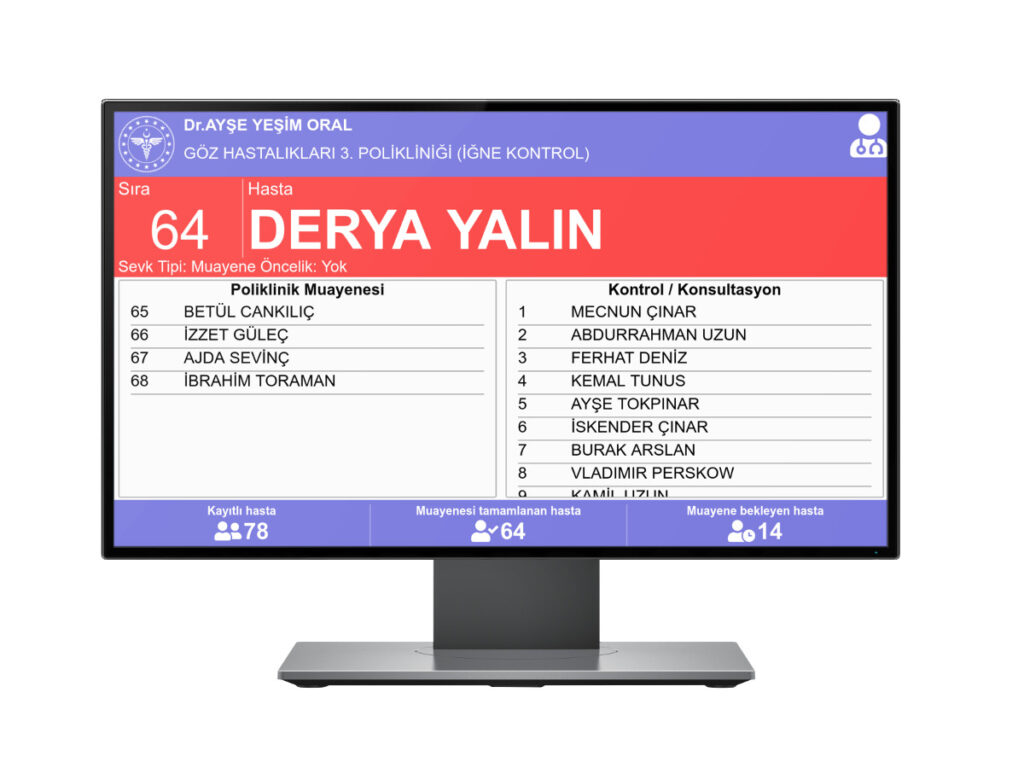 Independence from HIMS
It operates independently from the second monitor output of the doctor's computer. Since it does not use the computer connected to the HIMS system, there is no risk of broadcasting unwanted images.
Flexible and Wireless Connection
The capability of communication via Ethernet or WiFi eliminates the distance limitation of using VGA or HDMI as a second monitor and reduces the need for renovations.
Rich and Diverse Content Broadcast
Displays rich multimedia contents along with informative content such as queue information, live news, health news, central time, and weather conditions.
Adaptive Screen and Device Diversity
Thanks to the automatic orientation setting, it supports both vertical and horizontal usage and offers the possibility to be easily used on different devices (like monitors, tablets).
Practicality and Convenience
Requires only a 220V mains supply and can be used anywhere without the necessity of being installed above doors.
Use of Queue Management System in Patient Admissions
Technological Innovation in Modern Hospitals: Q-smart Queue Management Solutions
Patient admission processes are a critical stage for hospitals. The Q-smart queue management system enhances these processes, making them more efficient and faster, thus increasing patient satisfaction. The system covers all stages from taking a queue number to being called by the patient admission staff. Features like priority assignment in special cases and integration with the Hospital Information Management System simplify hospital operations.
The queue management system accelerates the patient admission processes by enabling patients to receive services more effectively and efficiently. With Q-smart Queue Management systems, waiting times are minimized, patient comfort is increased, and the hospital management's workflow becomes more organized.
Hospital Procedures with Queue Management System
Effective Management of Analysis, Blood Collection, and X-Ray Procedures
The queue management system is utilized in hospitals to make process workflows more efficient. This system provides the capability to prioritize patients with special conditions, and manage all processes in an orderly manner from registration to analysis and X-rays. All staff members, from nurses to radiology technicians, use this system to minimize patient wait times. It is an essential component of modern hospital management.
Thanks to the queue management system, procedures are conducted in a more organized, transparent, and efficient manner for both patients and hospital staff.
IPTV Monitor Solution
Smart Screen Management for Modern Healthcare Institutions
The IPTV monitor solution reflects patient information in real-time, integrated with EHR. The system, suitable for both monitors and tablets, broadcasts outpatient clinic information, weather conditions, and live news. With wireless communication and centralized content management features, it enriches the hospital experience.