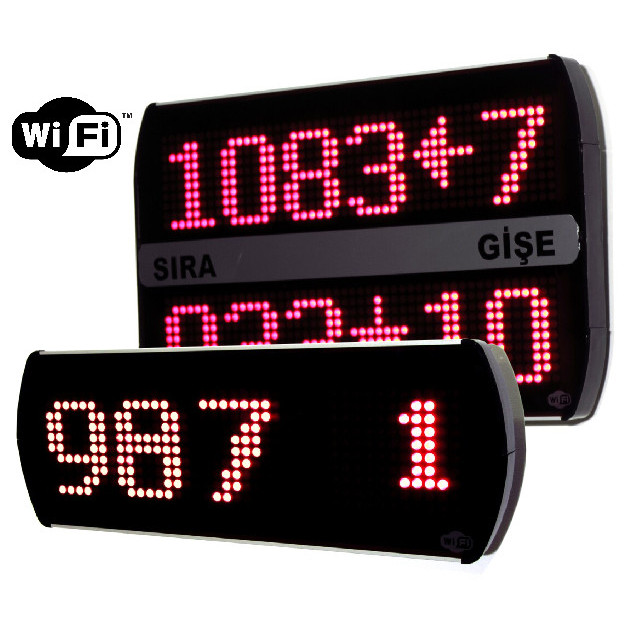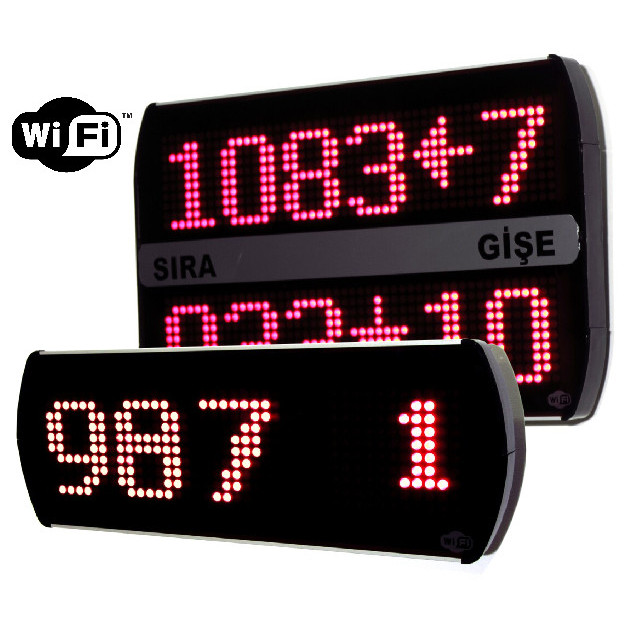 Full compatibility with IEEE 802.11 standard WiFi networks offers businesses not only the convenience of wireless connectivity but also flexibility and expandability. These displays, working in perfect harmony with the modems, routers, or access points in your workplaces, bring your queuing experience completely into the digital age.
With the capacity to show up to 20 rows of previous calls on a single IP address, Curwe WiFi LED Displays offer users unparalleled flexibility. You can use your displays either by distributing automatic IP addresses via DHCP or with a static IP. In contrast to other wireless products operating on radio frequency, with the international standard WiFi technology, you will experience a continuous and clear connection up to 300 meters away from a single connection point.
Curwe WiFi LED Displays, which you can use in every corner of your office or workplace without the hassle of cables and without needing renovations, also impress with their aesthetic aluminum design with soft edges. The ability to add rows as needed and the options of Red, White, and Blue LED colors represent the new generation of wireless queuing systems.​​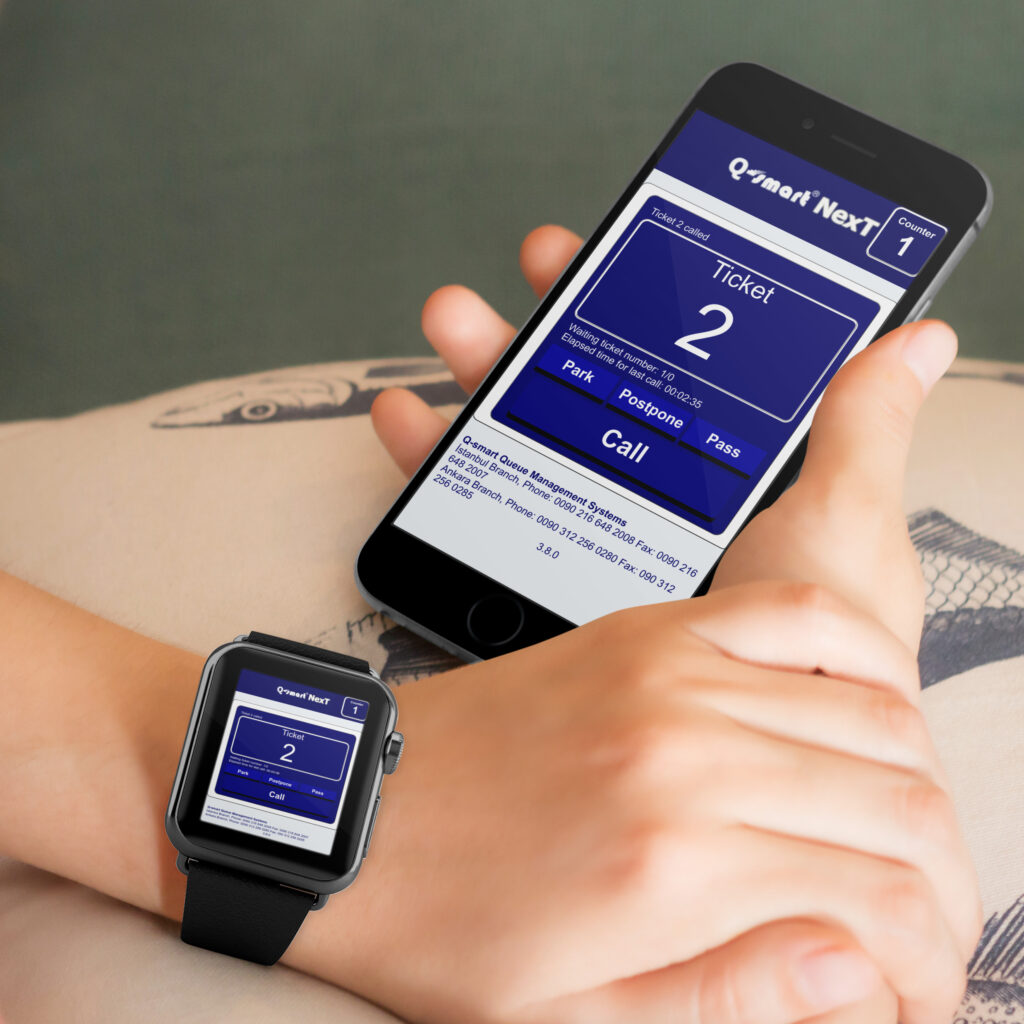 Wireless queuing systems become even more functional with call terminals. This queuing system, set up with WiFi infrastructure, offers three different options for calling the next ticket and handling ticket processes:
Smart Call Terminal: This terminal is an application that can be used on all devices with the Android operating system. It can be easily downloaded from the Google Play Store for free. After downloading the app, you can start using it immediately by entering the IP address of your queuing system.
Cloud Call Terminal: This web-based terminal is an integrated part of the queuing system. Thanks to the built-in web server, it works compatibly with all types of web browsers. Whether it's your smartwatch, tablet, or your computer's browser, you can directly enter the IP address of your ticket machine. Its adaptive design automatically adjusts to the screen of the device you're connected to.
Virtual Terminal: This platform-independent terminal has been developed with Java. It can work directly on all computers with Linux, MacOS, or Windows operating systems, without needing any installation. Compatible with Java 1.6 and above, this terminal offers ease of use and speed, keeping practicality and speed at the forefront for the user.
In short, WiFi call terminals make the wireless queuing system accessible and ultra-flexible from anywhere. If you want to move your business beyond the modern era, you can make a difference by choosing these terminals.​​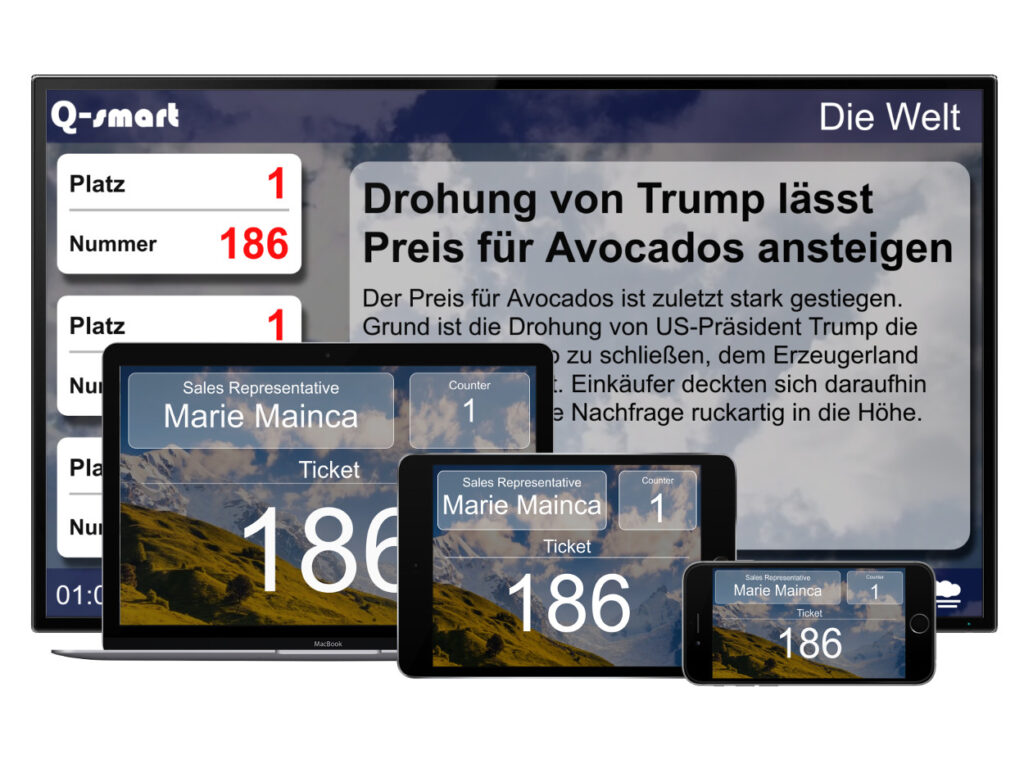 General Information
Cloud screens work on an internal web server, allowing access via the user's web browser.
To use, simply open the browser on your Smart TV, tablet, or computer and enter the designated cloud screen URL.
Thanks to the adaptive design, the screen automatically adjusts to whichever device is accessing it.
Counter Screen
Customization: Allows users to personalize the counter screen. You can set text details such as employee information, position, counter number, and ticket number, as well as fonts, colors, sizes, and shapes as you wish.
Background Options: You have the option to customize the background with colors, images, or videos.
Main Screen
Customization: Offers the ability to personalize items ranging from ticket and counter number texts to RSS news content and weather information.
Live Information: On the main screen, in addition to ticket numbers, weather conditions, location information, and RSS news can be displayed. You can bring live news from the source of your choice onto your screen and customize the content as you like.
The ability to customize according to the users' needs and expectations makes these screens an indispensable tool for businesses.​​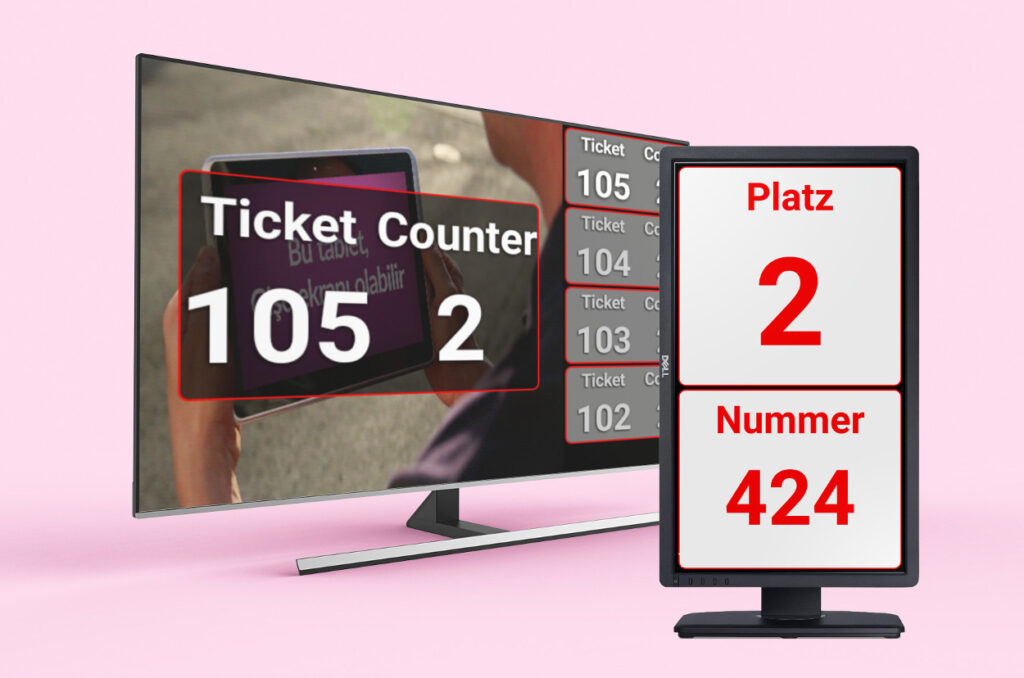 Main Screen Transformation
Your LCD TVs can easily be converted into main queuing direction screens with Q-smart DSI (MyTV).
You have the opportunity to transform your LED screens by changing their location to display advertisements, TV broadcasts, informational messages, announcements, videos, and photographs as part of a corporate TV.
With a wireless network connection, it can be easily integrated into the queuing system.
Counter Screen Solution
You can turn your operator screens into an interactive communication channel by combining them with LCD monitors or TVs.
With LCD Operator screens, you can provide content enriched with information messages, photographs, and announcements while obtaining a screen appearance suitable for your corporate image.
Adaptive Screen Display
With horizontal or vertical working options, the MyTV system automatically provides the best view according to your screen position.
Rich Content Options
In addition to your standard content, you can also broadcast live information such as weather conditions, currency exchange rates, central time, and current news on your screens.
The MyTV Digital Signage System elevates customer communication and information to a higher level while strengthening the corporate image of businesses with interactive and content-rich screen experiences.​​